Only a few weeks to go here; it's just insane how fast time flies. I've probably said this a lot, but it becomes more and more real every time the calendar gets slightly closer to the big red 'final day' marking in my planner.
Kicking off the week and last half of my placement, I worked one on one with Alison to discuss the new museum trail. We mainly focused on target age groups, format, word count, and who/what will actually be included on the self-led trail. Before heading back to the office, I helped remove a few environmental monitors from their cases for their 'check-up' on Wednesday. Most of the afternoon back at the office was spent scouring the internet and archives for information on our selected individuals for the trail.
Tuesday was another team meeting morning and I used that time to finally finish the handling box booklets! It felt so great to cross off a huge project from my list of things to-do. After doing a little happy dance, I went back to the museum in the afternoon to help out with preparing the cases to be opened and have the remaining environmental monitors removed.
Continuing the trend of working with the monitors, I was willingly stolen from crafts day to learn about how monitors are recalibrated, how batteries are changed, and how to read their respective graphs. All of this is probably super boring to most people, but it's good to have this experience before future collections work and to understand the tech that goes into helping protect and preserve objects. I did join up with crafts in the afternoon and got to see the cool science activities that Tenovus brought in for the day.
Thursday was once again another day of marketing. This time I worked on drafting up some tweets for some upcoming September-December happenings at the museum and wrote up an upcoming Twitter poll with some reminder tweets. Many of my Thursdays are me staring at a Word document and browsing other Twitter accounts for inspiration/research.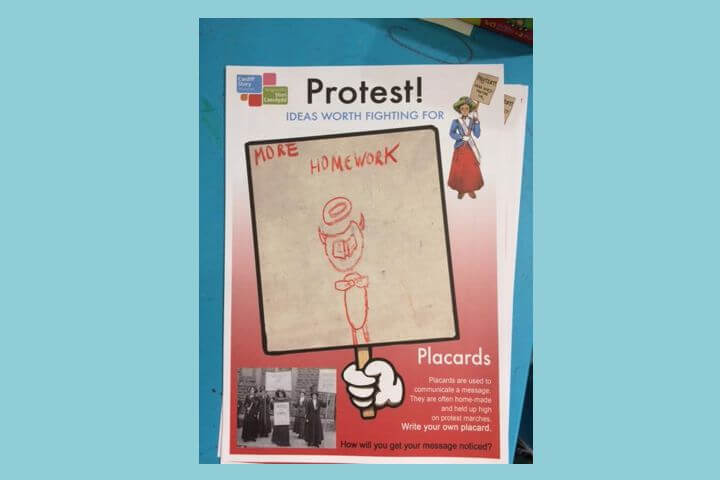 My second and final Dinky Dragons brought the week to an end. It was another crazy day with loads of Disney music, paint, rhymes, and toddlers everywhere, but it's always nice to chat with those in the community and see people interacting with the museum in a new way. I don't know how teachers do it daily, but after this Dinky Dragons day I was worn out and headed home to have a nice weekend hibernation in order to get ready for week six.